We are Crest
Sustainability Initiatives
We are committed to continuing our efforts toward a more sustainable future: We have installed a Zero Liquid Discharge Facility (No Effluent Discharge) at each unit. Introduced high-performance products with styrene-free, low VOC, and bio-based products that help us to reduce the carbon footprint We have switched from conventional fossil fuels to solar energy. As of today, approximately 10% of our power requirement is fulfilled through the use of solar energy We have installed the rainwater harvesting system at both plants to reduce water consumption
Recycle & Waste Management
We have installed a Zero Discharge Facility ( No Effluent Discharge) at each unit.
We have reduced solid waste generation through rationalization of raw materials.
Conversion of paper and organic waste to manure (For Captive Consumption)
Use of Xylene free azeotropic distillation for removal of water (*in some processes).
Sustainability efforts for ECOVADIS
Started monitoring of CO2 Emission
Implemented system for Water Use monitoring & Optimization
Implemented system for Transportation Emergency Cards – TREM card for hazardous material transportation
Formed works committee for social dialogue with management
Started training on Sustainability Topics within organization
Started penetrating Sustainability principles in the supply chain
Evaluating suppliers on the basis of ESG principles also apart from Quality and Price
Implemented policy of Whistle blower mechanism
Implemented policy of Information Security & Data Protection
Focus is given on purchasing recycled packing material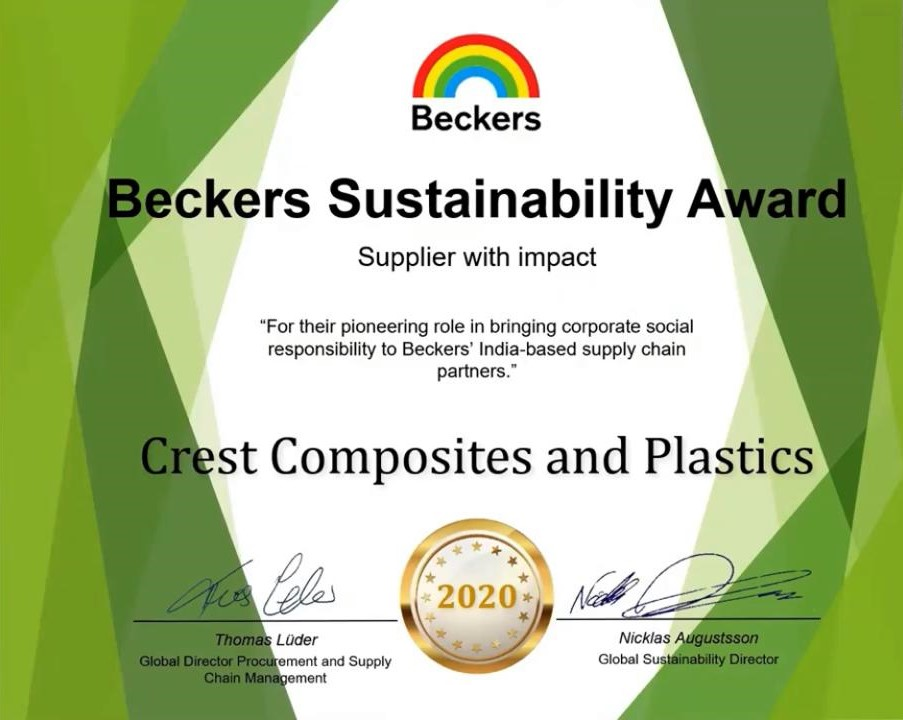 Beckers Sustainable Award
Our efforts in water conservation, solar energy consumption, and other initiatives of having an overall eco-friendly approach to our operations have brought us the prestigious Beckers Sustainable Award by Beckers Group.